Since the release of the Ricker's Guide chapter on Wedding Etiquette for Women was such an internationally smashing success (my barometer for success is completely uncalibrated), I'm releasing yet another small fraction of my unlimited wellspring of knowledge. Behold:
Ricker's Guide Chapter 96: SCUBA safety
Greetings SCUBAnaut!
If you're reading this chapter, you're either an adventure seeker, a reluctant father on a tropical family vacation, or an extremely dedicated Republican who said if Obama got elected they would move under the sea.
No matter which one of those three categories you definitely belong to, welcome to the exciting world of SCUBA!
Section 1: The History of SCUBA
Before you SCUBA dive, you must SCUBA learn. Here's a brief history of how America's 182nd favorite past time came into existence.
SCUBA diving was created in the wake of the popular 1958 Frank Sinatra film "Swingin' Under The Sea." America fell in love with Sinatra's womanizing, alcoholic take on Poseidon, King of the Sea and wanted a piece of that hip sub-aquatic nightlife.
The country spoke clearly in one voice: "We are going under the sea immediately, without any preliminary research or preparation."
Hundreds of thousands drowned before President Dwight D. Eisenhower stepped in and tasked NASA with developing what was referred to at the time as an "oxygen fanny pack." This eventually became called "an air tank," and in the future will probably be known as "That thing I need to breathe outside because Al Gore was right about those goddamn greenhouse gasses."
Once the air tank was invented, SCUBA was born! "SCUBA," of course, is an acronym that stands for Self-Contained Underwater Breathing Asparagus. Or something. It doesn't matter. Go away.
Section 2: Some totally cool SCUBA Fun Facts
The politically correct term for gay SCUBA diving is "snorkeling"

Based on decades of research, the #1 reason people want to SCUBA dive is "getting to pee on a fish."

Christopher Walken has been SCUBA diving twice. He thought about doing it a third time, but was like "meh."

"SCUBA" can be used as a noun, verb, adjective, or, if you're in certain parts of Indonesia, a

very

offensive racial slur.
Section 3: Famous SCUBA Divers
There aren't any.
Section 4: Diving with a buddy
Now that everything you could possibly know about the history of SCUBA diving is out of the way, let's get wet. Interpret that last sentence however you want.
While diving by yourself is an extremely cool thing to do, it can also be dangerous. Just like smoking cigarettes (if smoking cigarettes was dangerous.) In the name of safety, many divers will do so with a buddy.
The importance of diving with a buddy cannot be understated. After you account for your air tank, mask, snorkel, wetsuit, flippers, diving weights, and SCUBA lessons, a buddy is the 3rd most important thing to have while diving.
A diving buddy can help you with many SCUBA-related tasks before you even get in the water. These include unloading your gear, conducting pre-dive safety checks, and insisting on performing vaguely homoerotic group stretches for just a little too long.
Once underwater, the two most important functions a diving buddy performs are monitoring underwater conditions and making sure you don't cheat on your wife with some kind of sexy fish.
Before you and your partner begin your dive, it is customary to designate a team leader. A team leader can be chosen using cribbage, Uno, or really any game middle-aged white people play when all their kids have gone off to college.
It is important for both members of the team to agree on the goal of the dive before it begins. The partnership won't work if one diver wants to collect abalone shells while the other wants to spend the whole time making his spear gun look like his penis (an activity the National SCUBA Association has declared "The most enjoyable underwater activity" 38 years running.)
Section 5: What to do if you run out of air
Don't panic! Not being able to breathe is completely natural.
Did you know that the human brain can go an entire year without oxygen? That's true. So the easiest solution to running out of air is just stop worrying about it so much you fucking baby.
However, when faced with a lack of oxygen, the more sexy option is to find a mermaid and have her breathe into your mouth like in the movie "Splash." Or was that "Hook?" I think it was probably "Hook" now that I think about it.
This, however, is not an easy task. Finding a mermaid under the sea is no problem. It's like shooting a fish in a barrel (PRO TIP: Do not use that term underwater. Jokes regarding fish genocide are frowned upon down below.)
Arranging for a mermaid to give you mouth-to-mouth resuscitation can be a bit tricky. Mermaids are prudes – everyone knows that. But here are some sure-fire pick-up lines guaranteed to woo any lady of the sea.
"Nice tail. Want to make horrific interspecies babies?"

"Your sea shell bra is only covering one of your nipples, and I'm kind of into that."

"Yeah. I can walk on land… but whatever. No big deal."

"My last girlfriend was the mer-chick from the Chicken of the Sea can. She got too clingy though, so I ended it."

"The Little Mermaid is so pretentious." (PRO TIP: This one will get you laid every time.)
Section 6: In Conclusion
While yes, SCUBA diving is expensive and complicated, it is also very dangerous. So at least it's got that going for it!
You may be scared to SCUBA dive at first, but think of it this way: how else will you ever see what's under the surface of the ocean besides a movie or TV show or internet article or book or magazine or glass bottom boat?
Oh and I looked it up – it's definitely Hook: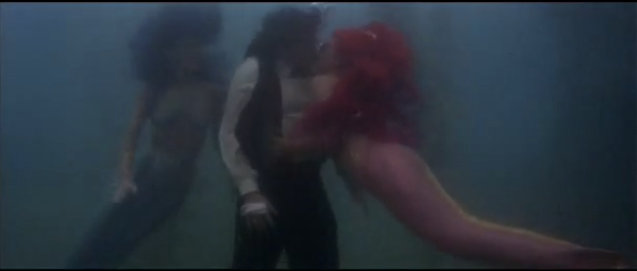 Hell yeah.